I continue wrapping Christmas gifts and this time I've done Christmas gift wrapping in natural colors like beige, brown, gray and white. These earthy colors feels nostalgic in its simplicity.
For the first one I've used brown paper and wrapped strips of white cloth around the package, the fabric is torn from an old sheet. I quickly made some pompom-balls in gray yarn, I show how I do them in bottom of this post, which I tied after I have wrapped the yarn around the package a few times. Some white-painted pine cones and a Christmas gift label finished it all.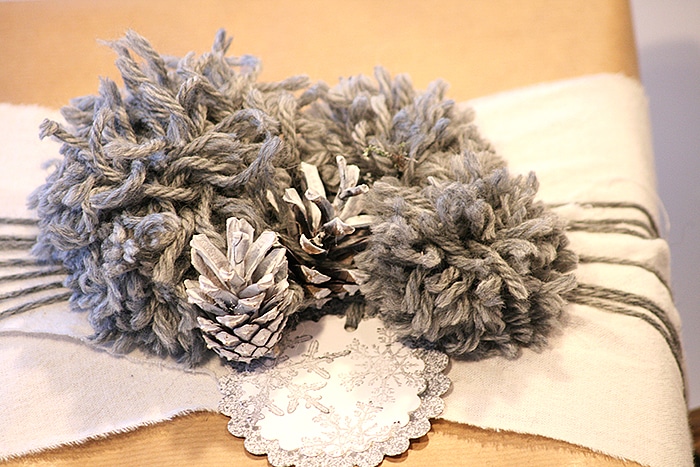 The label is made of two layers and the lower scallop circle I carelessly sprayed with gray spray paint to get a spotty look, the color is Slate Grey from Ranger Dylusions Collection Ink Spray. On the upper scallop circle I stamped some snowflakes, even them a little sloppy with little color on the stamp so they were gray instead of black.
The second package was given a striped wrapping paper in white and beige, a wide band cut from burlap fabrics, some pine cones and a round Christmas gift tag.
On the label I fixed a small piece of burlap and a Merry Christmas greeting that is made with a stamp I have had since a long time ago.
The last Christmas gift I rolled up and tied the ends together with brown string. As decoration it got it a "seal" that I made of a a round sticker pasted on a black scalloped circle. Around the package runs a banner that is also a sticker from the same sheet as the round one.
Quick Made pompom
Yarn Balls is quickly made with use of yarn, scissors and your hands.
I wrap the yarn around my fingers as the picutre above shows.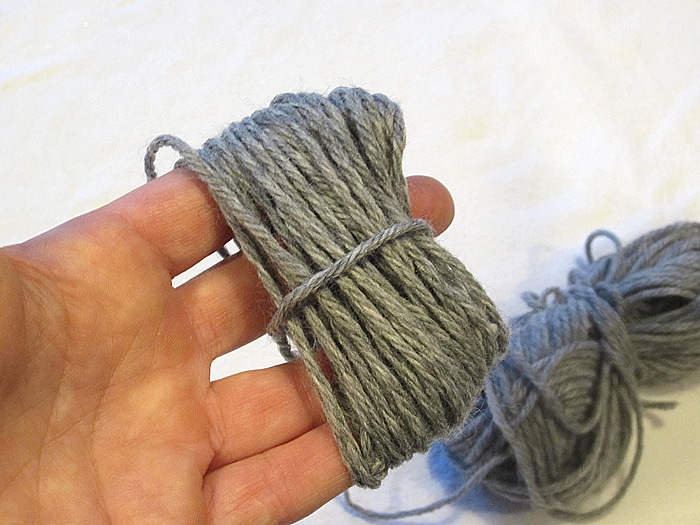 When I got a reasonably thick bundle of yarn around my fingers I thread a piece of yarn between my fingers, as shown, and tie it in the middle of the stack.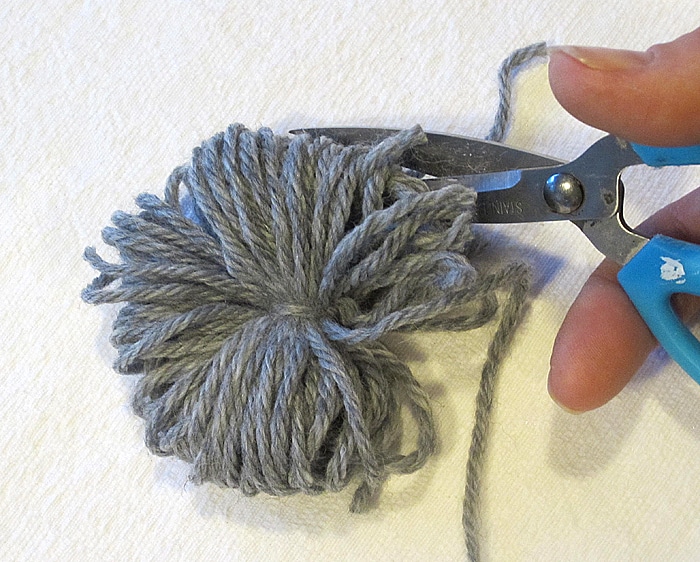 Then, just cut the yarn loops around the entire stack.
Tousle the yarn and you have a pompom.