Last weekend did we spent in Cista u Horek, a small village in the Czech Republic for a mating between Sunnantorps Like a Wild Sally and Xeno vom Sutumer Grund.
We have a long time trying to find a male to mate Sally with but it has not been easy because we want a healthy, short-coated dog with good temperament that has no common ancestors with Sally. Our breeders, Malin Ranestål on Sunnantorps kennel then tipped us of a male named Xeno wom Sutumer-Grund that seemed to be a good candidate. The only problem was that he lives in the Czech Republic in a mountain village about 10 mil north of Prague, it is a long way from northern Sweden. When we had been in contact with Dagmar who owns Xeno, checked that she had all the necessary papers and found out that Xeno seemed perfect Sally had begun her period. Then we had to take a quick decision, pack the car and hit the road.
At midday on Thursday, we arrived to Cista u Horek where Dagmar and her dogs live, in addition to the kennel she owns a pension, Pension Antonea…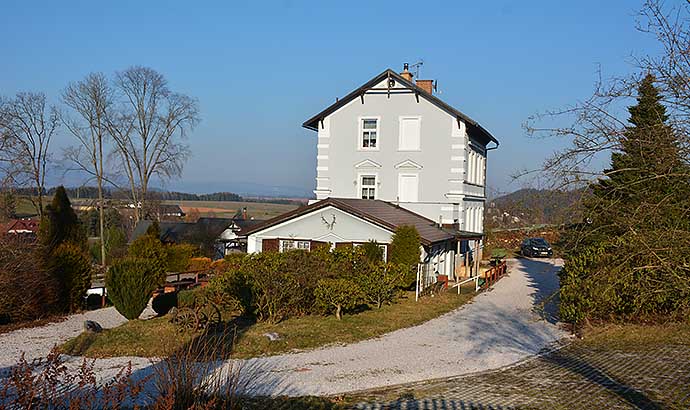 … which has a small cottage where we were staying and could take care of ourselves.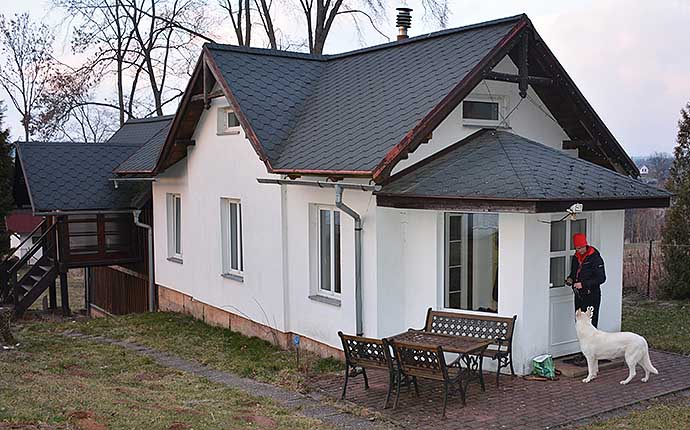 Dagmar is a great woman who in addition to the guest house owns a travel agency in Prague, Dagmartravel, with ten employees, and also a large farm, Ranc Montara, as her son is running together with a number of employees.
When we arrived Sally was not quite ready for mating so we had a few days of holiday in the Czech countryside. The surroundings of the guesthouse is nice to walk in, we could go over the big fields belonging to the ranch and in the surrounding forest.
The earth is red in these parts because it contains a lot of iron.
The ground was snow-free and the temperature was between 3 and 10 degrees Celsius depending on whether the sun lit or not.
I and Sally took a hike one evening up on the nearest mountain and got a magical moment when the sun went down. Such moments, I easily understand how fairy tales and myths have arisen over the centuries.
On Sunday night mated Sally and Xeno for the first time and once again on Tuesday morning. I myself had to take a plane from Prague to Stockholm on Monday to attend the event Webbdagarna. My husband and Sally stayed and when it was time to say goodbye after the second mating, it looks like Xeno thinks that Sally rather should stay with him.
Now we are eagerly waiting to find out if there will be some cute little white puppies in late May.