This weekend we have been in the mountains, in Bydalen. We stayed in a cabin on Höglekardalens Holiday resort. For the second year, all employees got this as a Christmas gift from my employer. We would actually have been more that went but it was my husband and I plus dogs. At first I was a bit disappointed but it became a relaxed weekend of rest and a lot of physical activity.
We went on Thursday night and on Friday morning we went on tour with skis from Höglekardalen. First it was only cloudy but before we were back it was snowing.
Up in the mountains it was blowing quite a lot so when had skiing 5 km we turned and went in among the birch instead. There it was quite OK to ski.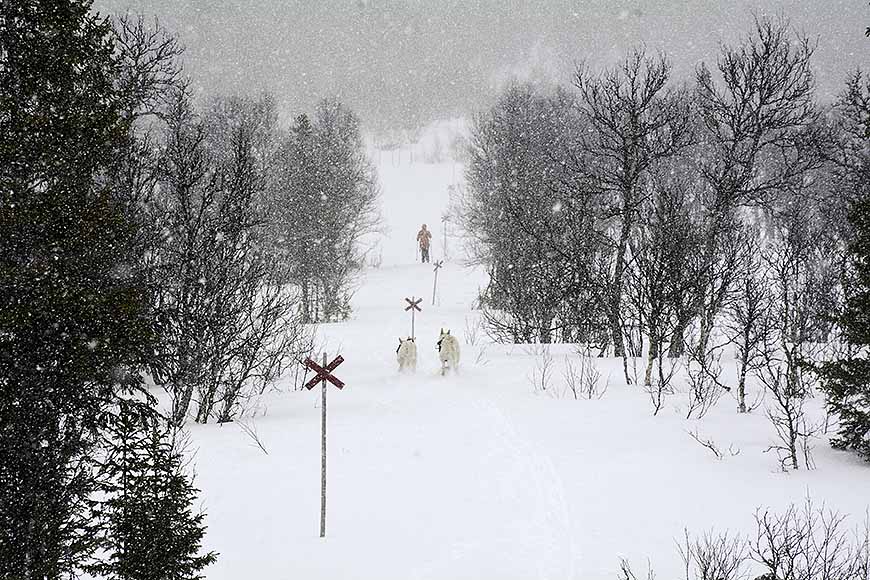 On the way back, it was initially slightly downhill and I had a little better glide and got ahead a bit. The dogs had full job running between us.
"Are you coming soon" wonder Nova. When it became steeper descents down the mountain, I took it very carefully because I would rather come down without any broken bones.
On Saturday morning we took the car to Fjällhalsen where you can comes up in the mountains after just a few hundred meters. Up in the mountains it blew more than the day before. We fought a kilometer but in the end we were forced to turn when it just blew harder and harder. The snow was whipped up by the wind and stack as needles in the face.
Here we just turned and it does not look too bad.
But when we continued the descent it once again starts snowing and and the visibility was getting worse and worse.
Canine instinct kicked in as they sought cover behind one of the small shrubs and trees we passed when they had to wait for us. In this situation, it felt like we were in the middle of a snowstorm. After a rough ride, it was nice to come down into the valley.
After resting for a while and and a coffee break in the cottage, we took a walk at the bottom of the valley on the snowmobile trails. I had spotted a geocach I wanted to take. The goal was a suspension bridge over Storån. It was a beautiful and tranquil place, with no wind and snowfall. The water in the river was partially ice-free and our mad dogs took a winter swimming in the shallow water.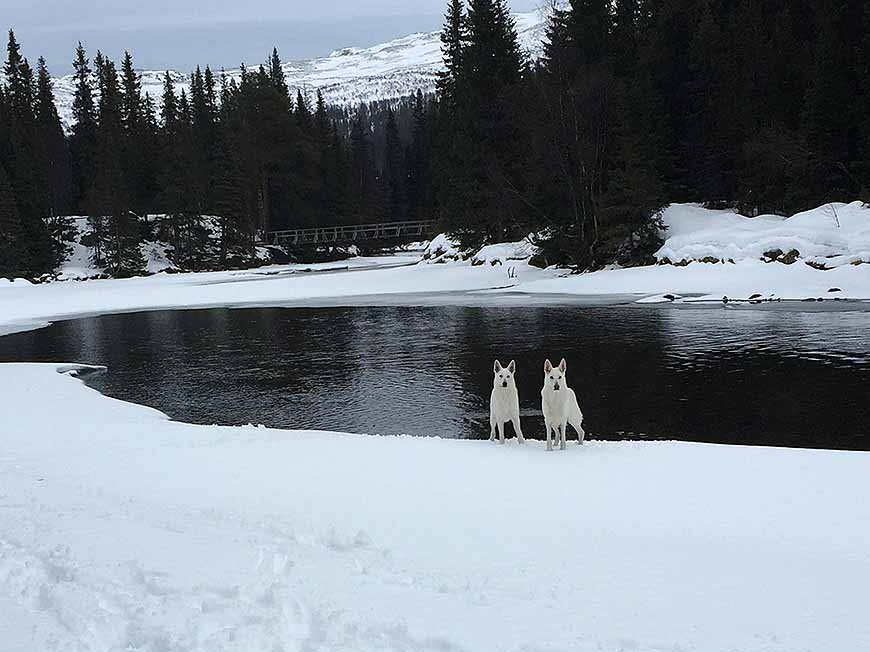 The evening ended with a wonderfully delicious dinner on Bydalens inn where one has a magnificent view of the 1140 high mountain Drommen.
Today we packed up and drove home before lunch. It was hot, even in the mountains and the ice road over the lake to Östersund was covered with water. Ice Patrol was out and checked the thickness of the ice so the crossing was completely risk-free. But it continues to be this hot, ice road hardly stay open much longer.
It was a relaxing and somewhat exciting weekend. A pity that we missed the good weather as the rest of the country seems to have had ..
This week's break in Weekend picture.