Spring has come off a bit here at us, it is mainly because the nights are so cold, but because the sun has been out on the day it does not matter. On Friday I took a walking tour of a skier's paradise a bit from us, I did not dare take my skis for my ski talents is not that big so I can manage when it's icy and bad tracks.
At 08 in the morning we started our tour and when I and Sally come up on the Rutberget terrain there was really ski trails on the loop that goes around up there and I almost regretted that I did not take the skis.
It was no problem to walk on the hard snow between the ski tracks, it was hard and nice ground to walk on.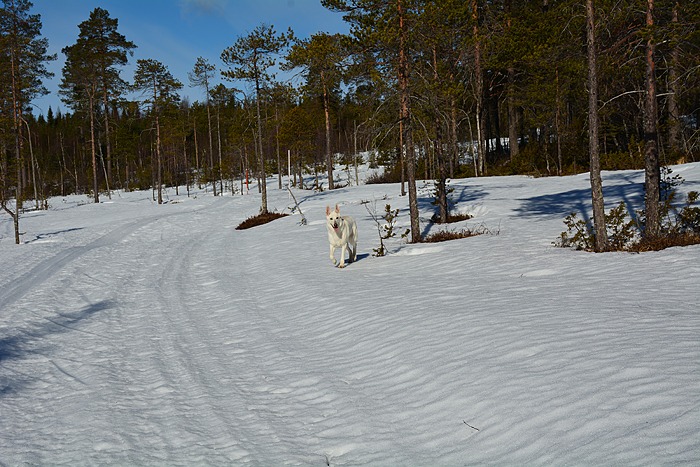 When we passed the cottage, Rutbergshotellet and proceeded towards Huggsjön all the trails disappeared and I was then happy that I chose to walk. We went down the mountain and turned back toward the car before we arrived at the Huggsjön, occasionally I saw a glimpse of ski trails but it was clearly better to walk than to ski.
On Saturday we loaded up the kick in the car, my husband and a friend of his took their ice skates and so we went to the Bäckfjärden. There it was nice to skate on the ice, or in my case, kicking on. Because I had my Icebug boots, I could get at grip and take off but we took it easy so that little dog lady could slip with us on the ice.