Sometimes I long to make new pages in my art journal book. It's so fun to mess freely with color, stamps, cut, paste, make collages, etc..
A few weeks ago, I took out one of the books I have and would continue with the few pages where I previously made ??the backgrounds but unfortunately I had no inspiration for what the pages would be about. I searched on Pinterest for "Art Journal Prompt", eventually I found a website with ideas on how to document the year with a question for each day. The lists I found, probably are made when you are writing a diary but you can use them for other things too. Since it's October, I went straight to the October list as you can see here.
There were a total of three new pages in my Art Journal, beginning with October 7th.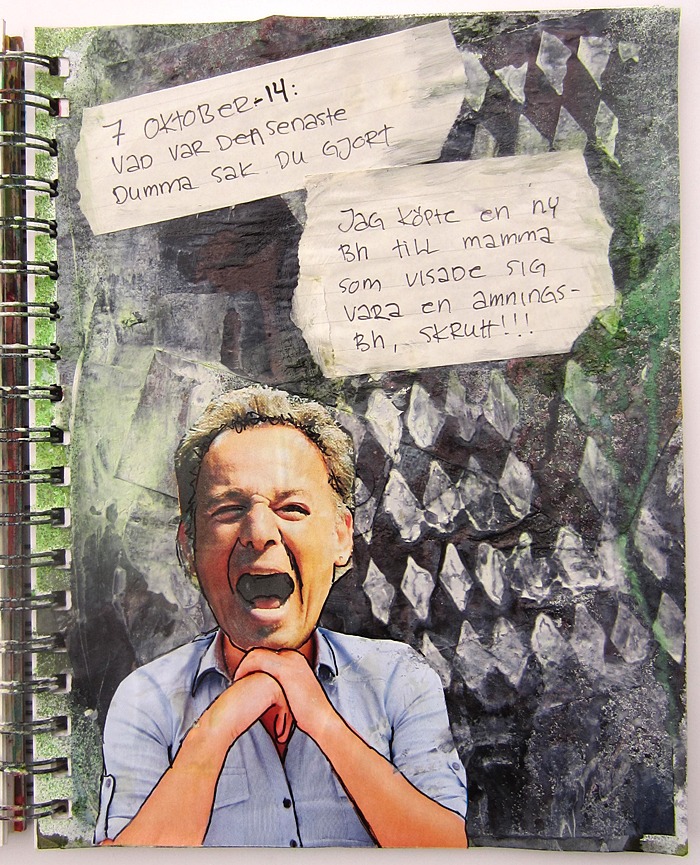 These lists of ideas contains both light-hearted but also deep questions, to see the entire year's list, click here.
Det var skoj att utgå från en sådan lista men för mig är det omöjligt att göra en sida varje dag, så mycket tid har jag inte att hålla på med att skapande, då blir det bara ett stressmoment. Men vem säger att man inte kan använda sådana idélistor när man har lust? Så får det bli för mig.
It was fun to start from such a list, but for me it's impossible to do a page every day, I don't have so much time to get involved with crafting, then it just becomes a stress factor. But who says you can not use such idélistor when you feel like it? So be it for me.