Despite the heat this weekend, I ended up in the garden, which started when I cut some grass. It usually our guys take care of but I think they cut sloppy so I simply took and cut a part of the garden myself. When I was doing it, I saw roses and other flowers in full blossom. My garden interest goes up and down, mostly down in recent years, but now I became inspired and took hold of weeding and edging.
This shrub has grown substantially and had almost blossomed over, it's a Rosa pimpinellifolia 'Poppius' which is dotted with small pink balls when it blooms.
I have become more and more fond of single or semi-double flowers on rose bushes. This is Rosa moyesii 'Nevada' which has white flowers with yellow middle.
This incredibly beautiful rose, Rosa moyesii 'Marguerite Hilling', I thought was dying, several branches have died but the branches that blossoms do it with mass, large pink flowers and are fantastic.
The buds on this rose is dark pink and wonderfully beautiful.
My Hydrangea anomala ssp. petiolaris has grown and has just started to bloom.
In one of the flower beds bloom this giant poppy.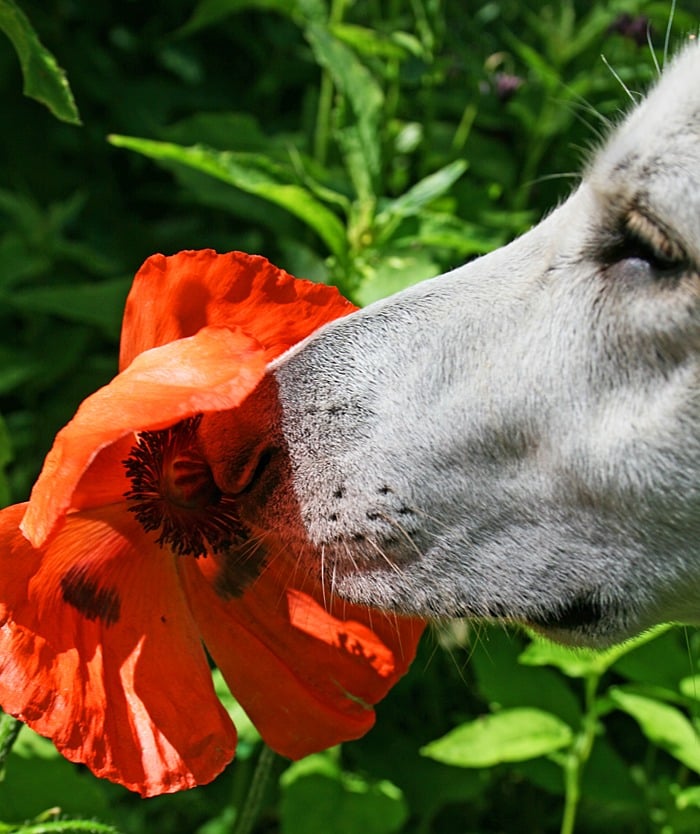 My constant companion Sally wondered what I had found and had to check carefully whether there was anything interesting.
As I walked around, I found this beautiful Foxglove who seeded itself in a grass slope. I usually plant new foxglove flowers every year since they only lives for two years but this year I unfortunately did not. Will definitely try to remember to take seeds from this one so I can sow more of it.
Now Sally thought that I photographed too much without taking her picture, so she sat just right in the spotlight.
See more holiday picturesr here>.