Today I show an art journal page about how to keep the balance in life, with a quote from Albert Einstein that says that life is like riding a bicycle, to keep your balance you must keep moving. He may well be right, as long as we do not stop and give up something will happens, life does not end instead something new can happen.
At Swe Scrapbook there is today a technology / mixed media challenge with the theme "Lettering" which was a trend that came strong the last year. There are books to buy on the subject and lots of information on blogs and other social media how to learn how to lettering and create a text that is as much an illustration that a text.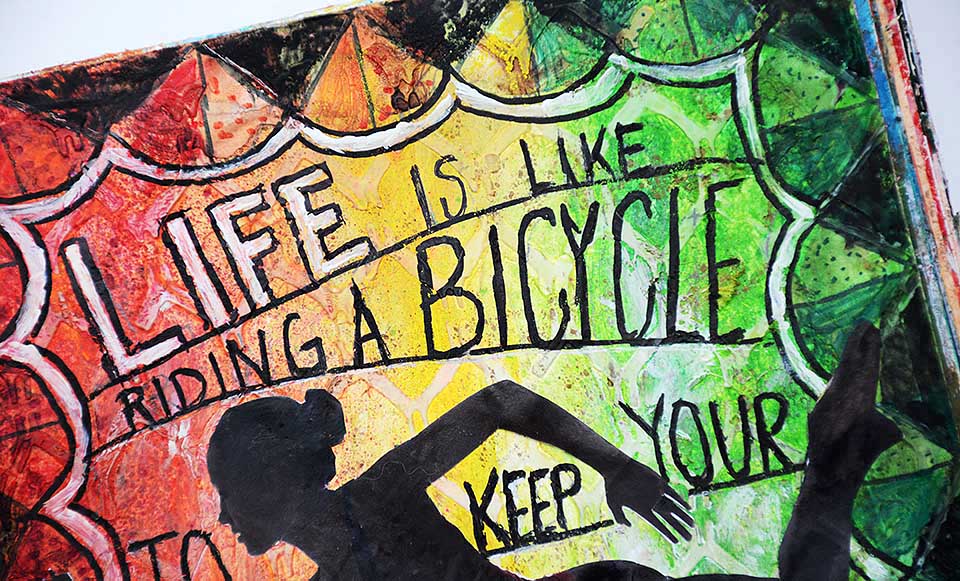 If I had to describe my own handwriting I would rather say it is art then a neat handwriting. I'm not very good at lettering but begin slowly realize that the text can appear in many different ways and still be OK. A dilemma with art journal and texting is that if you like me use thick layers with color on the pages, it is not so easy to get the text to attach to the color background and the bumpy surface of several layers of paint is a small challenge.
If someone has a good tip on a pens that attaches to the base of acrylic paint, pastels crayons, Mod Podge and other color and I'll gratefully like a tip, I have tried many different pens but no one is really good for this purpose.